SHEDS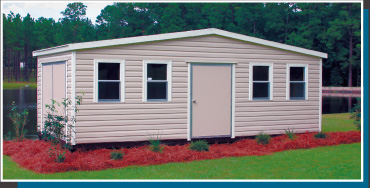 All of our new sheds are manufactured by Lark Builders, a family owned and operated business in Vidalia, Georgia, established in 1967.
Every building comes with a transferrable 20-year warranty. Each building has a unique 6-digit serial number, which means if at any time you need to sell your building, the warranty goes with it to the new owner!
Lark sheds are built using only the highest quality materials and are assembled with attention to detail.
All Lark sheds meet the Florida Building Code and exceed the required ratings here in Lake County.
We offer free delivery and set up within 30 miles.
That includes blocking under the skids, leveling, and supplying and installing anchors.
Not sure if you have enough room for a shed to fit?
No problem. One of our representatives can inspect the site and determine the maximum size that will fit.
Then all that you have to do is decide on layout and colors.
And don't forget... Lark sheds are portable! If you decide to move, be it 1, 3, or 13 years from now the shed can be taken with you!
Shed Uses:
Lawn Mower & Equipment
Motorcycle Storage
Additional Home Storage
Tool Shed
Playhouse
Pool House
Home Office
Workshop
Portable
(Can Be Moved With You)
Man Cave
ACCU-STEEL GREENHOUSE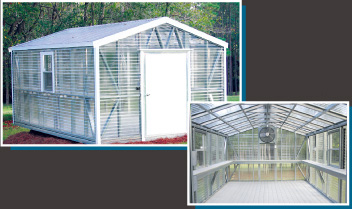 It does not matter if you are a professional horticulturist or a hobby grower, the Lark Accu-Steel Greenhouse was designed and engineered with your growing needs in mind. We have the size and the options to meet all of your growing demands and requirements. If productivity and efficiency are what you demand, the Lark Accu-Steel Greenhouse will deliver for you.
The competitive cost and pleasing appearance of this greenhouse will make it a welcome addition to your backyard or commercial nursery.