FINANCING
Tired of throwing money away every month on offsite storage?
Here at Lark Sheds of Leesburg we are pleased to offer several financing options. You can choose from 24, 36, 48 or 60 month payment plans. There is No Credit Check and no application. All you need is to have some source of income. Plus, if you like a display model, we can usually deliver it to your home in less than 48 hours. Or you could place a custom order and have it in approximately 2 weeks.
FAQs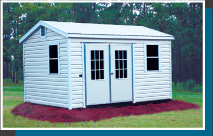 Q- How long does a rent to own contract take to fill out?
A- From start to finish, including a custom designed building, about 30 minutes.
Q- Can I pay extra at the start of the agreement?
A- Yes. If you pay more than the minimum down, your payments will be lower.
Q- When is my first payment due?
A- 30 days from the date that the shed is delivered and set up on your property.
Q- Can I pay it off early?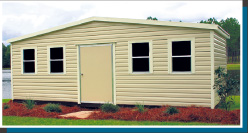 A- Yes. At any time during the agreement you can get your payoff and pay the balance due without penalty.
Q- Can I make extra payments as I go?
A- Yes. Any extra money sent will go directly to the principle balance to save you money.
Q- How do I make my payments?
A- You will receive a coupon book in the mail but you have a few payment options.
Mail a check each month
Set up automatic payments
Call and pay with a credit or debit card
Q- How much will my payments be?
A- That one isn't so simple to answer because there are a lot of factors but here are a couple of examples: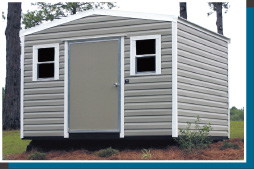 36 MONTH RENT TO OWN:
10x12
(based on a display)
$227.87 minimum down payment $113.94 per month
OR
If you were to put $500 down $90.79 per month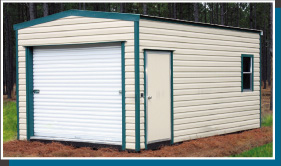 12x24
(based on display with 8' tall walls, 9'x7' Roll up Door)
$525.10 minimum down $262.55 per month
OR
If you were to put $1,000 down $216.25 per month