ABOUT US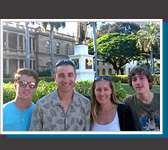 Lark Sheds of Leesburg has been serving the area for nearly 40 years selling sheds produced by Lark Builders out of Vidalia, GA. Adam and Monica took over this business in August 2014
WHO WE ARE
Adam & Monica Novack
We moved to the area in July 2010, having resided in Central NY most of our lives. We had had enough of the long cold snowy winters, so we packed up and moved our family to sunny FL and we couldn't be happier.
We were in desperate need of storage when we got settled here. We were used to having a basement for storage and that is not something you find in Florida. We rented a storage unit for a while but we got fed up with that and started looking for a shed. A friend told us about Lark Sheds and once we took a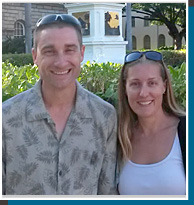 look at one became proud owners of a Lark Shed.
A couple of years later we began exploring business ownership and it was brought to our attention that we could own and sell a product that we had no doubt was the best out there. Lark Sheds are quality built, look nice, can be custom ordered to suit your own personal needs and have a 20 year factory warranty.
The product sells itself. It is very satisfying to us when we hear from customers and they are so happy with their new Lark Shed.